Young(er) Days
2002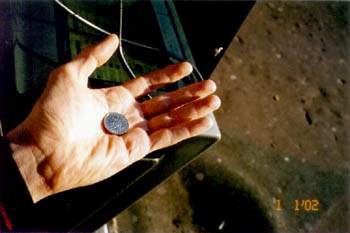 A change of currency doesn't change much - when you're broke, you're broke.
Un changement de monnaie, ça ne change pas grande chose ; quand on est fauché, on est fauché.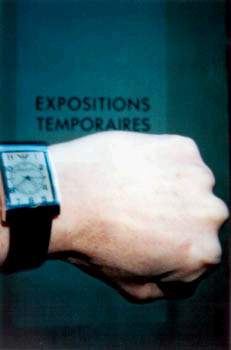 On Wednesdays, entrance to the M.E.P. is free from 5 p.m.
Le mercredi, l'entrée à la Maison Européenne de la Photographie est gratuite à partir de 17h.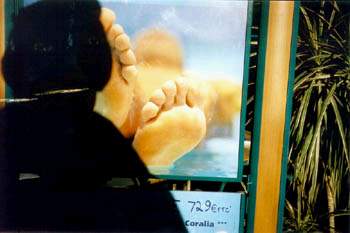 Back to work.
Retour au boulot.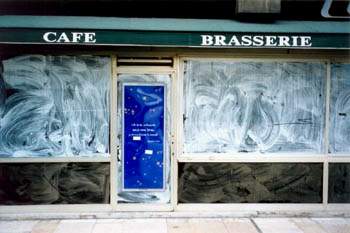 Problem of the day: where to get my midday coffee?
Le problème du jour : où prendre mon café de midi,?
Already the fifth day in 2002 and I'm still not smoking.
Déja le cinqième jour de 2002 et je ne fume toujours pas.
How not to do photography: forget to buy fix, then spend the afternoon clowning around on the sofa.
Comment ne pas faire de la photo : oublier d'acheter du fixateur et puis passer l'après-midi à faire le clown sur le canapé.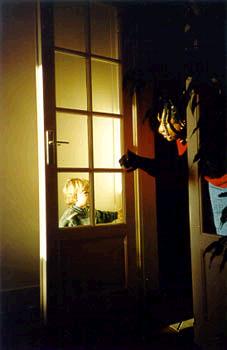 Harry plays hide'n'seek with Fatou. That evening, chez Shakespeare & Co., it's Camillo, the New York poet, Albert, Tom, Papa Paul an' all who play hide'n'seek with the worn out linguistic coinage of the dominant ideology.
Harry joue au cache-cache avec Fatou. Le soir, chez Shakespeare & Co., c'est Camillo, le poete New Yorkais, Albert, Tom, Papa Paul et al. qui jouent au cache-cache avec les expressions épuisées de l'idéologie dominante.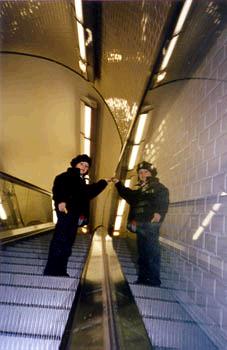 St Lazare, 8:30_p.m. "You know what?" "What?"
"Liège est fermé au public."
St Lazare, 20h30.
- Tu sais quoi ?
- Quoi ?
- Liège est fermé au public.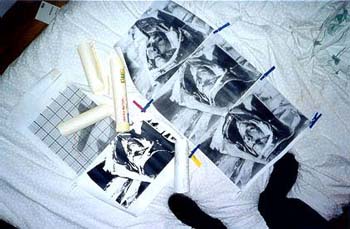 The postman delivers a roll of pictures from Paul.
Le facteur ammène des images de Paul.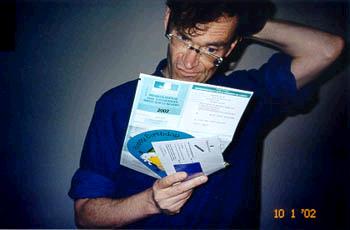 My birthday. I get a tax raise.
Mon anniversaire. Ils augment mes impôts.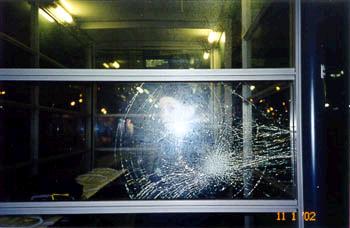 Between my daughter and I, the lines that show where something shattered.
Entre ma fille et moi, les traces de quelque chose qui s'est brisée.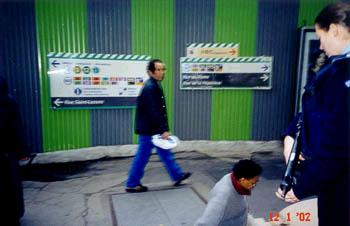 (Too) early in the morning, I look for a quiet corner where I can plant my bum and wait for Leila to be let out of school.
Tôt (trop) le matin, je cherche un coin tranquil où me poser les fesses en attendant la sortie de l'école.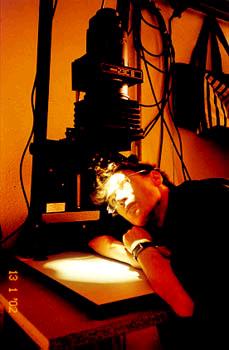 Hours spent looking for the total darkness needed to bring life back to the lost light of past time.
Des heures passées à la recherche du noir absolu nécessaire à faire renaître la lumière perdue d'un autre temps.
I spent still more time putting these fragments of past time into order. It's daft, I know, but it helps kill the time that in the end kills us all.
J'ai passé encore du temps à mettre en ordre ces fragments de temps passé. C'est con, je sais, mais ça fait passer le temps.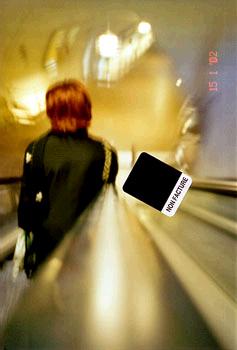 When I get home tonight, I'll see Harry dancing to his favourite tune, "The bear necessities". He does it just about every evening. But somehow, it's never what you could call a routine.
Quand je rentre à la maison ce soir, je verrai Harry danser au rhythm de son morceau préféré, "Il en faut peu pour être heureux". Il le fait presque tous les soirs. Et pourtant, ça n'a rien d'une routine. Today I read:
To the extent that necessity is socially dreamed, the dream becomes necessary. The spectacle is the nightmare of imprisoned modern society which ultimately expresses nothing more than its desire to sleep.
The spectacle is the guardian of sleep.
- Guy Debord
Aujourd'hui je lis :
A mesure que la nécessité se trouve socialement rêvée, le rêve devient nécessaire. Le spectacle est le mauvais rêve de la société moderne enchaînée, qui n'exprime finalement que son désir de dormir. Le spectacle est le gardien de ce sommeil.
- Guy Debord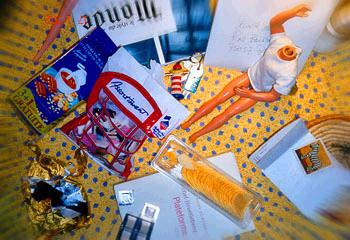 I noted in my diary:
We have the children we deserve. Meanwhile, I'm still not smoking.
J'ai noté dans mon agenda :
On a les enfants qu'on mérite.
En attendant, je ne fume toujours pas.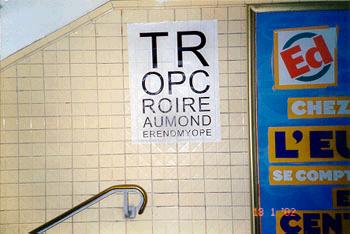 Like most Parisians, I could do the daily trip from home to work and back again with my eyes closed, but...
Comme la plupart de Parisiens, je pourrais faire le trajet quotidien entre la maison et le boulot les yeux fermés, mais...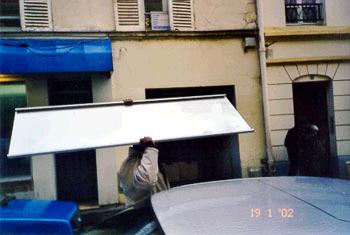 Slept badly.
Mal dormi.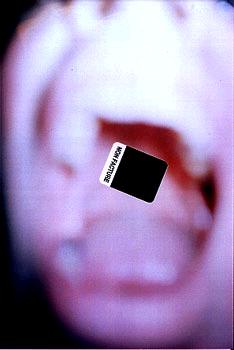 "Art is made so that politicians and the people don't fall asleep", says Le Monde quoting the Minister of Culture.
I bet she sleeps just fine.
"L'art, c'est fait pour que les politiques et les peuples ne s'endorment pas", déclare au Monde la ministre de la Culture. Je pari qu'elle dort très bien.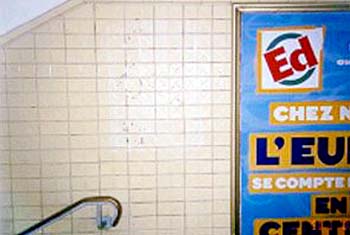 I consider it very important to read advertising posters with the utmost care in order to try to be a good consumer.
Je considère qu'il est très important de bien lire les affiches publicitaires afin d'essayer d'être un bon consommateur.
You always know when Laurentine's been round. It shows in that special attention to detail.
On sait toujours quand Laurentine est passé ; ça se voit dans l'attention aux détails.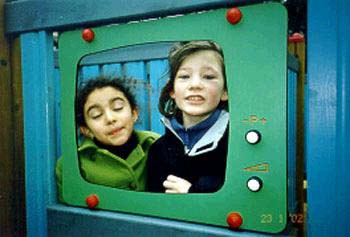 And now, the weather: the planet is going to continue to warm up for a few more years to come...
Et maintenant, la météo : la planète va continuer à rechauffer encore quelques années...
Not much on TV tonight.
Nor yesterday, nor tomorrow.
Ce soir, il n'y a pas grande chose à la télé.
Ni hier, ni demain non plus.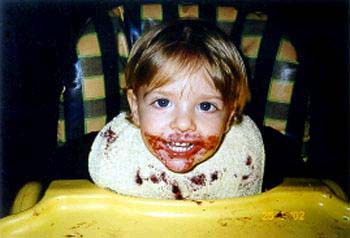 "We ask a lot of our men and women in uniform", explained the President of the United States, "and they deserve to have all the resources and all the arms they need to achieve a total and definitive victory against terrorism".
Nous demandons beaucoup à nos hommes et femmes en uniforme, a expliqué le président des États-Unis, et ils méritent d'avoir toutes les ressources et les armes dont ils ont besoin pour parvenir à une victoire totale et définitive contre le terrorisme.
Harry has broken my glasses yet again.
Harry a cassé mes lunettes encore une fois.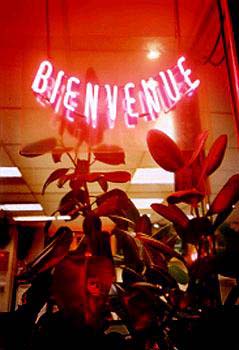 In Paris, it's almost hot.
In Scotland, storms have claimed at least seven lives.
A Paris, il fait presque chaud. En Écosse, les tempêtes tuent au moins sept personnes.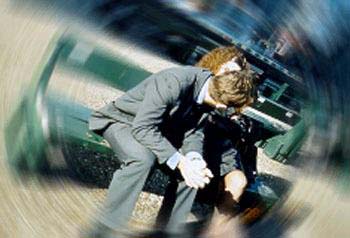 The world is still full of heartbreak and horror, hate, injustice, cowardly acts of savage cruelty, countless cases of unheeded suffering and occasional unfortunate slips of the tongue.
Ce matin sur France Culture, le présentateur annonce_:
"une étudiante palestinienne agée de vingt-deux ans s'est fait sautée en pleine rue à Jerusalem."
Today at lunchtime, I went for a stroll on the Champs Elysées, the most beautiful avenue in the world. It's very romantic.
Ce midi je me suis promené sur les Champs Elysées, la plus belle avenue du monde. C'est très romantique.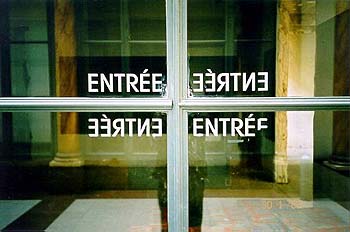 A little outing with Jean-Mi, who shows me a cute gallery I'd never seen. There are still a few spots in Paris that don't need to be photographed to be as pretty as a picture.
Une petite sortie avec Jean-Mi qui me fait découvrir une jolie galerie. Il y a des coins qui n'ont pas besoin d'être peints pour être beaux comme des tableaux.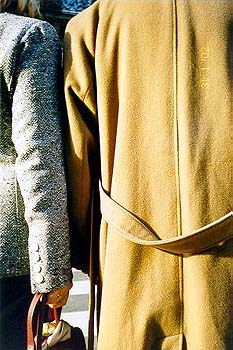 Today, a little surprised, I realised I'm still alive.
Aujourd'hui, un peu surpris, j'ai constaté que je suis encore en vie.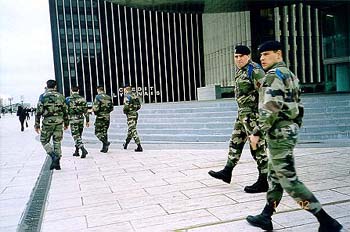 At TotalFinaElf, anyone asked about pollution or corruption replies "no comment". Meanwhile, they lay off 500 workers and announce record profits. All is just fine and dandy.
Chez TotalFinaElf, interrogés au sujet de la pollution ou de la corruption, ils disent "no comment".
En attendant, ils licencient 500 personnes et ils annoncent des bénéfices records. Tout va bien.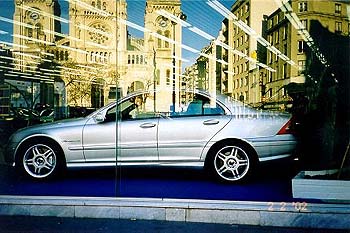 Been done strode so much, ma dogs is pooped. If I'd of had a stash, I'd cash in on some cool new mules.
J'ai tellement marché que j'ai mal aux pieds. Si j'étais riche, je m'achèterais une nouvelle paire de chaussures.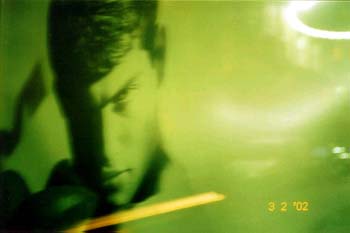 Today didn't happen.
Aujourd'hui n'est pas arrivé.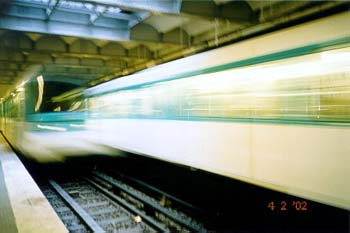 Underground work photo? Hmmm... Sounds like an idiotism.
Retour à la veille routine : métro, boulot, photo...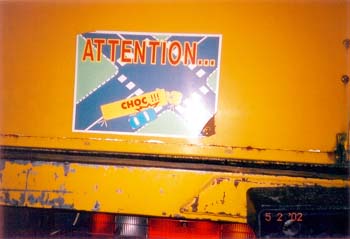 Angry.
En colère.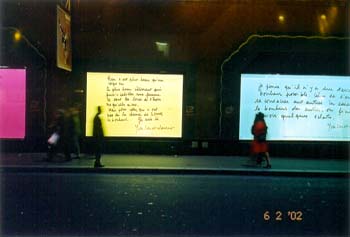 So I buy a pretty pack of Lucky Strikes and I walk and I smoke and I smoke and I walk. One small victory for the redneck political-industrial complex of North Carolina.
Donc, je m'achète un paquet de clopes et je marche et je fume et je fume et je marche. Une petite victoire pour le complexe politique-industriel de la Caroline du Nord.
On mornings like this, the rue des Batignolles is bathed in blinding sunlight, and you can't see a damn thing.
So I take photos and wait a few days to see what the camera recorded.
Des matins comme ça, la rue des Batignolles est rasée d'une lumière aveuglante, on ne voit strictement rien. Donc je prend des photos et j'attend quelques jours pour voir ce que l'appareil a enregistré.
Still don't know where to take my midday coffee.
Je ne sais toujours pas où prendre mon petit café de midi.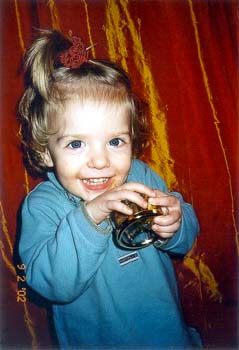 Leïla decided to make herself a little sister. We call her Harrietta.
Leïla a décidé de se faire une petite soeur. On l'appelle Harrietta.
I take Leïla to the paper shop to buy a magazine. I suggest a cute kiddy thing with ideologically correct educational content. She chooses another one with popstar posters in it. Doesn't last long, childhood.
J'emmène Leïla à la librairie pour acheter un magazine. Je suggère Astrapi ou quelque chose du genre. Elle choisit un autre avec des posters de popstars. Ca passe vite, l'enfance.
Another lovely day in hell.
Encore une merveilleuse journée en enfer.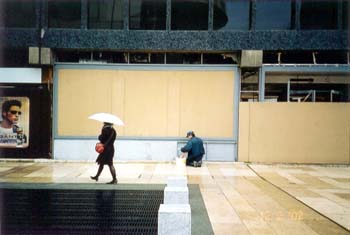 Am I alone in my constant wondering?
Suis-je seul à me poser autant de questions ?
How to resist in the face of such pressure?
Comment résister face à tant de pression ?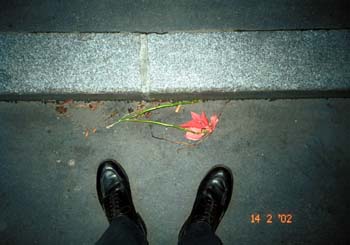 Sorry, I don't have what it takes to buy a bouquet, but I thought of you, my sweet valentine.
Désolé, je n'ai pas de quoi acheté un bouquet, mais j'ai pensé à toi ma jolie valentine.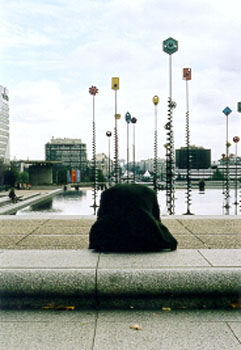 My defence.
Ma défense.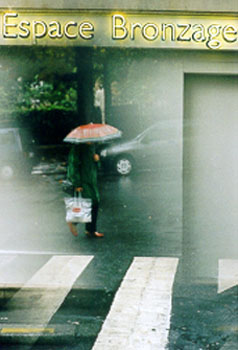 Have you not had enough?
Vous n'en avez pas marre ?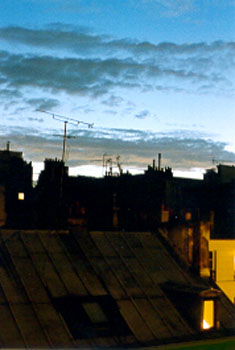 When you're tired of Paris...
Quand on en a marre de Paris...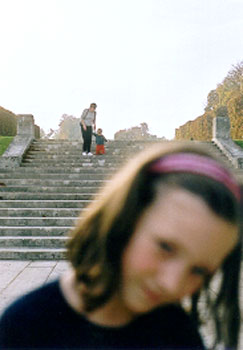 There is always Saint Cloud.
Il y a toujours Saint Cloud.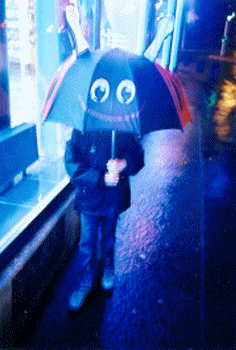 Sometimes I feel time's been stolen from me.
Parfois je sens qu'on me vole du temps.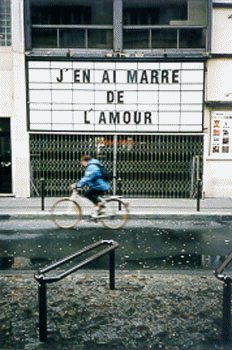 ... you gotta move.
... il faut bouger.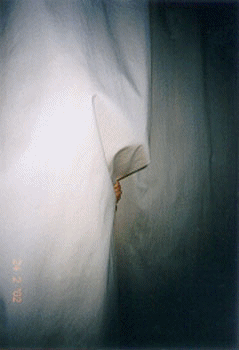 Waiting for Grandma.
En attendant Grandma.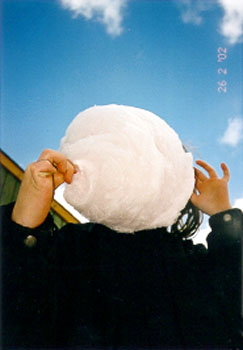 A key moment in life: the first candy floss, followed by the bitter taste of disappointment.
Un moment clé dans la vie : Sa première barbe à papa, suivi par le goût de la déception.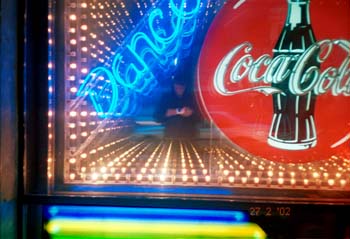 Been a long time since I danced on coke.
Ca fait longtemps que je n'ai pas dansé en ligne.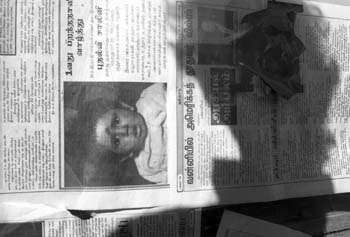 Any photo reveals at least three points of view.
Toute photo révèle au moins trois points de vue.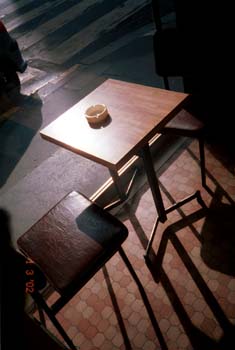 Objects speak continually to those who take the time to look.
Les objets parlent sans cesse à ceux qui prennent le temps de regarder.
Walking home from Montparnasse at 2 a.m.
after a few drinks, I did not see a UFO over the Seine. I am quite sure that I did not.
Rentrant à pied de Montparnasse à 2h du matin, après avoir bu quelques verres, je n'ai pas vu un OVNI au dessus de la Seine. Je suis sûr que je n'en ai pas vu.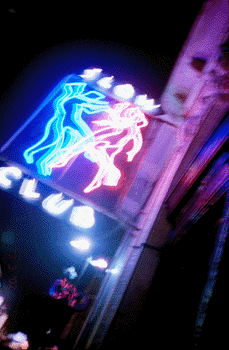 Been a long time since I danced a slow.
Ca fait longtemps que je n'ai pas dansé un slow.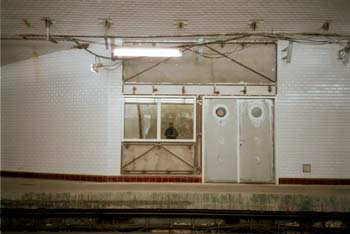 Could I be what you might call an underground photographer?
Serais-je ce qu'on n'appelle pas un photographe du métro ?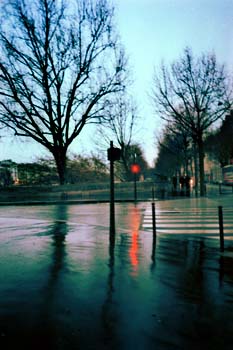 Sometimes you've got to stop.
Parfois il faut s'arrêter.
Tomorrow I give up making good resolutions.
Demain j'arrête de faire des bonnes résolutions.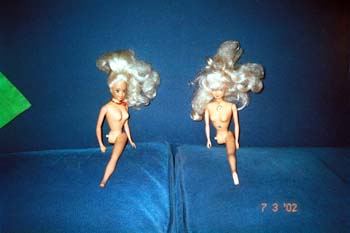 I'm beginning to wonder if it's a good idea to let the kids watch the 8 o'clock news.
Je me demande si c'est une bonne idée de laisser les enfants regarder les infos de 20h.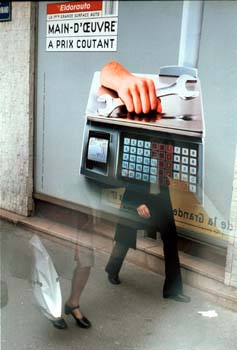 How much is a job worth?
Combien vaut un boulot ?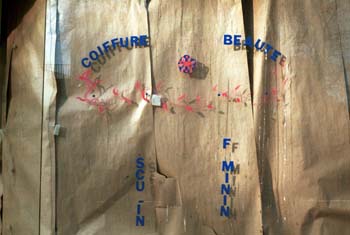 Lately, I've been spending a lot of time letting my hair grow.
Dernièrement, je passe beaucoup de temps à laisser pousser mes cheveux.
Since people gave up walking, it's not only the ozone layer that's suffered.
Depuis que les gens ne marchent plus, ce n'est pas que la couche d'ozone qui souffre.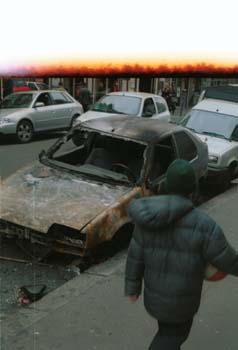 Shucks.
Zut.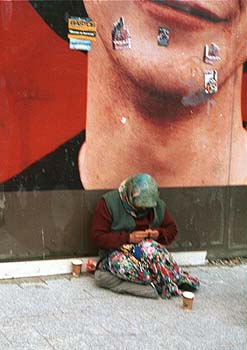 Thousands of tourists come to the Champs Elysées every day. Me too.
Des milliers de touristes viennent au Champs Elysées tous les jours. Moi aussi.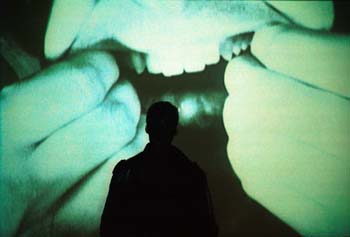 A visit to the museum of modern art with Tom, who's got toothache.
Une visite au musée d'art moderne avec Tom, qui a mal aux dents.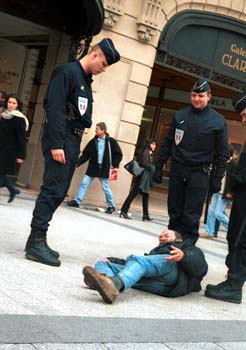 If you fancy a trip down the Champs Elysées, you'll always find someone ready to give you a hand.
Si tu veux te trébucher en descendant les Champs Elysées, il y a toujours quelqu'un là pour te donner une main.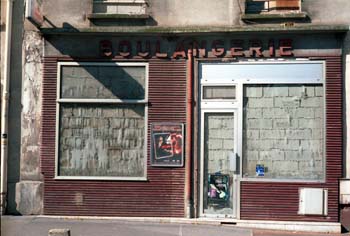 Out of dough.
Plus de blé.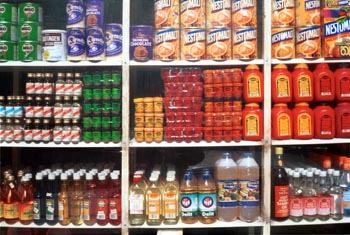 I've got to think of eating something other than ham sandwiches.
Il faut que je pense à manger autre chose que des jambon-beurres.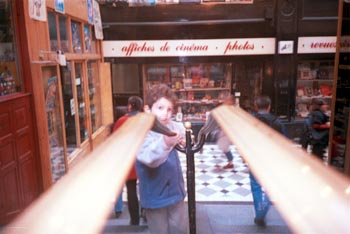 Before becoming a man who looks like a child, I was a child who looked like a man.
Avant de devenir un homme qui regarde comme un enfant, j'étais un enfant qui regardait comme un homme.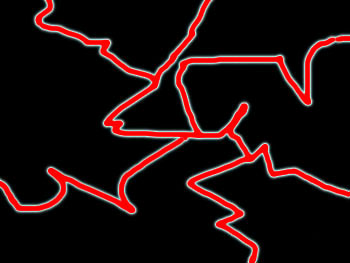 Computer fucked.
Ordinateur pété.